"Black Dog"
is a song by English rock band Led Zeppelin, which is featured as the lead-off track of their fourth album, released in 1971. It was also released as a single in the US and Australia with "Misty Mountain Hop" on the B-side, and reached #15 on Billboard and #11 in Australia.
In 2004 the song was ranked #294 on Rolling Stone's list of the 500 Greatest Songs of All Time. Led Zeppelin bass player John Paul Jones, who is credited with writing the main riff, wanted to write a song that people couldn't "groove" or dance to. In the December 2007 issue of Mojo magazine, Jones credited Howlin' Wolf with the inspiration for the beat:
"The riff to 'Black Dog' started the same way [as 'Trampled Under Foot',] a jam based on something I'd heard on a new release by Howlin' Wolf, a blues lick that went round and round and didn't end when you thought it was going to. My dad had taught me this very easy notation system using note values and numbers, so I wrote it on a bit of paper on the train coming back from rehearsal in Jimmy's house in Pangbourne."
"Black Dog"
Single by Led Zeppelin
from the album Led Zeppelin IV
B-side
"Misty Mountain Hop"
Released
November 8, 1971

December 2, 1971 (7" single release date)

Format

7"

45 RPM
Recorded
December 1970–March 1971
Genre
Hard rock, heavy metal, blues-rock
Length
4:56
Label
Atlantic Records
Writer(s)
Page/Plant/Jones
Producer
Jimmy Page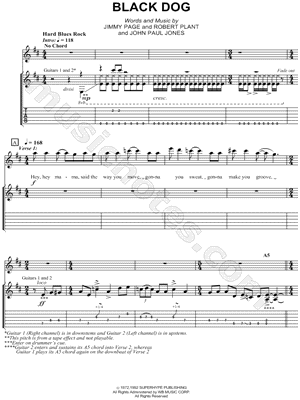 Black dog led zeppelin
Tweet