Angel shark
The Angel sharks are flat-bodied sharks, very ray-like. They bury themselves in the sand or mud with only the eyes and part of the top of the body exposed. They have a blunt snout and are camouflaged to blend into the sand and rocks of the ocean bed. They have long, wide fins that look like wings, giving it its name. It is also known as the monk shark, sand devil, and monkfish. Angelsharks are frequently caught for food.
Angelsharks have small, sharp teeth in trap-like jaws.The various species of Angelsharks range in size up to 6.5 feet (2 m) long. The Pacific Angelshark is up to 5 feet (1.5 m) long. Angelsharks are bottom dwellers that live on ocean floors of depths from 10 to 4,300 feet (3 to 1300 m). They live in warm temperate oceans in the southern hemisphere.
Pacific angelsharks are found in the eastern Pacific Ocean , from southern Alaska, USA to Baja, CA, USA and from Ecuador to southern Chile.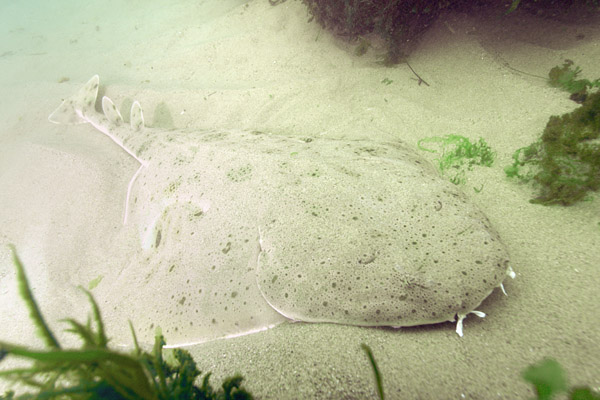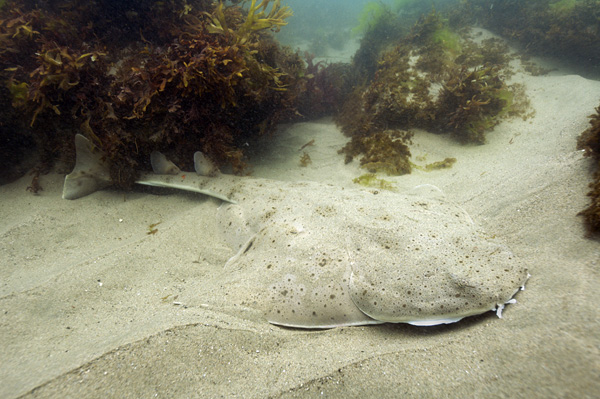 Angel shark
Tweet