Blue Tick Hound Dogs
The Bluetick Coonhound is a breed of dog. It is a type of coonhound and typically bred in the southern United States.
The overall body style of the Bluetick Coonhound is muscular and speedy, not chunky or clumsily built. The head is carried well up and the tail carried over the back, without signs of fear or nervousness. The Bluetick coat should be moderately coarse and glossy. The Bluetick Coonhound gets its "blue" coloring from black/white mottling which gives the impression of a navy blue color. This mottling covers the body and can be interspersed with variously-shaped black spots on the back, ears and sides. Preference runs to more blue than black on the body. Black should predominate on the head and ears. Bluetick Coonhounds should have tan dots over the eyes and on the cheeks with dark red ticking on the feet and lower legs below the body line, on the chest, and below the tail. Red can be eliminated, as well as the tan head coloring. Blue mottling on the body is preferred to lighter ticking. Blue ticking should be predominant over white in the body coat. Off colors are not allowed, but almost solid black with just some ticking on the feet and chest is permitted.
It is most likely that the Blue-tick is principally descended from the quick foxhounds of England with some introduction of the blood of various French hounds which were used for hunting big game. The French dogs were known as being very cold nosed. George Washington received five such French hounds from General Lafayette.Blue-ticks were originally registered with U.K.C. as English. In 1946, at the request of the Blue-tick fanciers, U.K.C. began registering Blueticks as a seperate Breed.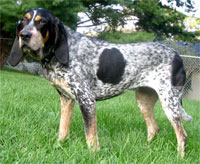 Blue Tick Hound Dogs
Tweet